Ford OEM automotive parts Motorcraft filters, oil & fluids
We carry a wide selection of automotive parts for popular Ford, Lincoln, Mercury cars and trucks including the complete line of Motorcraft filters for oil, air, transmission, fuel along with water separators. The website also has many of the harder to find synthetic motor oils, transmission fluid for both automatic and manual transmissions and axle fluids. Our online catalog includes items like brake pads, thermostat and housing assemblies, water pumps, electrical switches, EGR valves, emission and engine control sensors, ignition items including spark plugs and coil. Power Stroke Turbo Diesel and non-turbo only items such as glow plugs, relays, IPR valves, engine sensors, harnesses and specialty additives. Many other service products for a wide range of models. Including car models Mustang V6 models, GT, Shelby Cobra GT500, Focus, Crown Victoria, Taurus, Fusion and SUV vehicles like the Escape, Explorer, Expedition along with Ranger pickups, E-Series vans and F-Series trucks such as F150 and Super Duty F250, F350, F450, F550 with Power Stroke Turbo Diesel and gas engine applications.
K-MansParts also has some of the harder to find items not always found in FoMoCo's cataloging like some older TSB replacement parts and factory recommended specialty lubricants, fluids and oil not always easily found. All of our products listed are new and include their individual factory warranty. Ford OEM and Motorcraft products carry a 2-year full replacement parts warranty. We offer discount pricing and daily shipping to you using FedEx Ground, FedEx Express, UPS and USPS Priority & First Class mail options. Included in our inventory for sale is Lucas oil products and additives, Wix racing oil filters and AC Delco.
Included on K-MansParts.com is a reference page, link on the left. This page has PDF charts that show Ford's recommendations for engine oil change with Motorcraft filter information and oil type. Transmission fluid for both manual and automatics along with rear axle for recommended lubricants. The page also has some basic Ford Power Stroke diesel information.
We also list on the website is a large selection with 100's of different stainless steel vanity license plate automotive car tags for multiple automotive makes (Ford, Mercury, Lincoln, General Motors, Chevrolet, Buick, Mopar, Dodge, & Chrysler), NCAA collegiate schools from all over the country (SEC, ACC, BIG TEN, BIG 12 & PAC 12 conferences) and military branches (US Army, Navy, Marines & Air Force).
For any Motorcraft filters, fluids or Ford OEM automotive parts that you do not see listed or any questions

contact us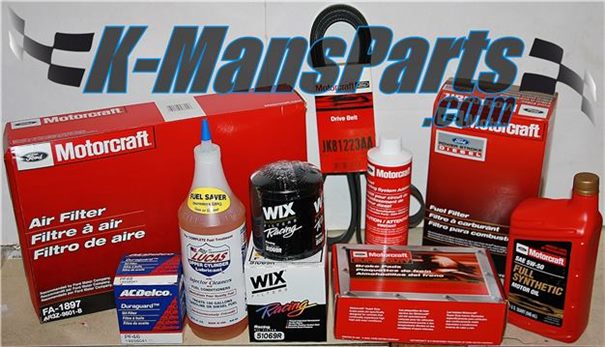 Automotive parts Motorcraft filters, fluids Ford OEM stainless steel vanity license plate tags